More Kitchen Images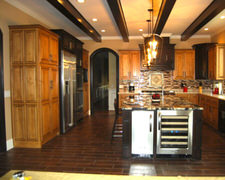 Ramirez Cabinets L L C
3200 East County 15Th St
Somerton, AZ 85350
Phone: (928) 376-0235
Kitchen cabinets, counter tops and bathroom vanities.
custom cabinets and furniture
Custom Cabinets and Furnishings
Ramirez Cabinets L L C is a custom wood kitchen cabinet retailer and full-service kitchen design centre specializing in solid wood hand-crafted kitchen cabinets, kitchen islands, pantries and solid wood furniture and accessories for the home. We serve all of Arizona.