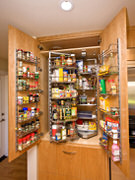 Blue Hill Cabinet & Woodwork
Richard Sawyer
517 Pleasant St
Kent, ME 04614
Phone: 2073742260
E-Mail: bluehillcabinet@gmail.com
Blue Hill Cabinet is a four man shop owned by craftsmen Chris Gray and Rick Sawyer. We build, design and install custom cabinetry of all types. Client inspiration, creative design, attention to detail, and quality of construction drive our work from original concept to finished piece.
We build new kitchens using up to date modern kitchen hardware, as well as the ability to source hard to find, high quality hardware. Whether you are seeking a clean, new modern look or an historically accurate addition, we are able to design and build to suit.
We can reproduce historical mill work including, door and window casing, baseboards, crowns, cornices, window parts, wood paneling, staircase components and other historic trim work.
Clients can expect versatility and impeccable craftsmanship in addition to clear and thoughtful communication from the design work and drawings to the selection of the wood used.