More Kitchen Images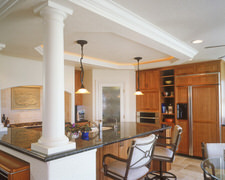 Sauls Custom Cabinet
14721 Calvert St
Sherman Oaks, CA 91411
Phone: (818) 997-6012
We make custom cabinets and counter tops for home and office.
Manufactures fine custom cabinetry in Sherman Oaks, California
Refacing your cabinets is an economical and eco-friendly alternative to replacement when it comes to your kitchen upgrade. If you're satisfied with the layout of your existing cabinets, we can work together to give your kitchen a stunning new look.