More Kitchen Images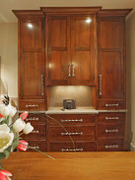 M And N Casework
4413 North Hale Avenue
Tampa, FL 33614
Phone: (813) 876-4597
Building contractor and custom cabinetry manufacturing.
Wide variety of finishes including; lacquer based, water based lacquer, staining, glazing and oil-based paints
M And N Casework is a cabinet company located in Tampa, Florida and has been servicing the surrounding areas for many years. We specialize in all types of cabinetry.