More Kitchen Images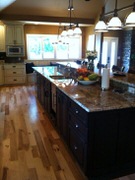 One Stop Cabinet Inc
4101 Nw 77Th Avenue
Miami, FL 33166
Phone: (786) 237-0874
One Stop Cabinet Inc is a kitchen and bath design and remodeling company.
Marble products, ceramic products, counter tops, tables, fireplace fronts, kitchen cabinets.
We start your project from the very beginning and make it into reality. We provide customers with kitchen cabinets, to vanities, flooring tiles, back-splash tiles, hardwood floors, laminate floors, quartz, granite and all the services and installers that are required.