More Kitchen Images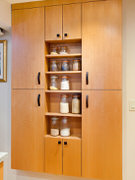 Spaeth's Woodworking
2381 Galilee Avenue
Zion, IL 60099
Phone: (847) 872-4086
We are a family owned and operated cabinet and millwork shop specializing in custom cabinets, furniture, casing, crown, and countertops.
Kitchen cabinets / Wall units
Here at Spaeth's Woodworking, we manufacture and install fine cabinetry and Corian products. We specialize in creating the perfect look for you, our clients, by assisting them in generating the look that will keep your clients coming back.