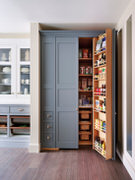 Val Corporation Of Wisconsin
582 Brookfield Boulevard
Fond Du Lac, WI 54935
Phone: (920) 929-9268
Val Corporation Of Wisconsin creates Custom Cabinets in Fond Du Lac, Wisconsin.
All cabinetry products are thoughtfully fashioned to combine functionality, durability, sustainability and design appeal.
Here at Val Corporation Of Wisconsin, we are a Design & Build company that is focused on providing Renovation Services of the highest standards. We are driven to complete each job with a level of craftsmanship that will reach nothing short of your expectations. We combine state of the art technology, a team of highly skilled contractors, and an exceptional Client Care process to get every job done on time and on budget.