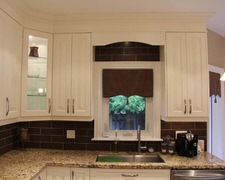 Shady Grove Cabinet Shop
3030 Buchanan Trail East
Greencastle, PA 17225
Phone: (717) 597-7855
Kitchen cabinets, wood mouldings, prefabricated tiles.
custom manufacturing wood products, molding, cabinets counters, furniture
Custom cabinetry manufactured right here in Greencastle, Pennsylvania.
Shady Grove Cabinet Shop provides a comprehensive package of services including custom architectural millwork, professional project management, contract administration, value engineering, technical engineering, CAD drawings, shop drawings and sample approvals, production of prototypes and CNC production capabilities, and installation services.