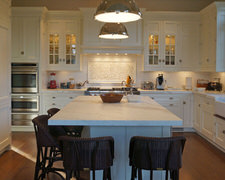 Carlton Woodworks
285 Carlton Ridge Lane
Greeneville, TN 37745
Phone: (423) 636-1251
Carlton Woodworks offers professional installation and sales of kitchen & bathroom cabinets, flooring, and granite.
Carlton Woodworks is a fully custom cabinetry and millwork company based out of Greeneville, Tennessee. We have an in house design, CNC and spray finishing department. Our facilities include a large 3 axis CNC router, fully enclosed spray room with air makeup unit.