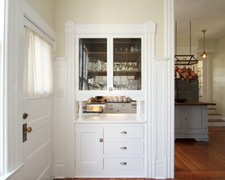 Heritage Hardwood Cabinetry
2221 Berry Avenue
Groves, TX 77619
Phone: (409) 718-2109
Kitchen cabinets, counter tops.
Heritage Hardwood Cabinetry specializes in the installation of kitchen cabinet doors and refinishing (refacing) the outside of existing cabinets. We can also add new drawers, moldings and more. All this is done within 2-3 days and at a cost of 40% less of a new kitchen.