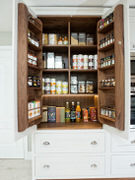 Cabinet Maker
982 Salty Bottom Road
Gurley, AL 35748
Phone: (256) 776-2083
Cabinet Maker manufactures affordable custom cabinets for every room in the home.
We serve thousands of customers every year in Gurley, Alabama and the surrounding areas.
We are able to provide some of the most competitive prices in the industry by producing our cabinets in our overseas factory.