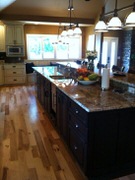 Crestwood Cabinets Inc
N1428 760Th St
Hager City, WI 54014
Phone: (715) 792-5351
Custom Cabinetry for Residencial and commercial aplicationsFull service shop from Design and lay-out, fabrication and installation.
With photorealistic renderings and real time designing, you will know exactly what your kitchen will look like and how it will function. Change colours, door styles, design layouts at the click of a button.