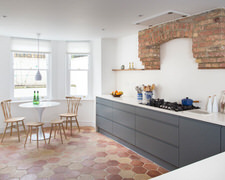 Royal Standard Cabinetry
60 Greenbrier Lane
Hanson, MA 2341
Phone: (781) 447-1214
Royal Standard Cabinetry provides some of the highest quality kitchen cabinets the industry has to offer. With a wide variety of stains, colors and designs, you'll be sure to find the perfect cabinets for your home.
We manufacture all wood custom cabinetry for new home and remodeling projects. We provide full service design consultation and a expansive showroom.