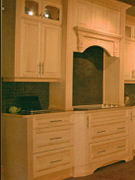 Cabinets Of North Texas
1601 South Main St
Hutchins, TX 75141
Custom woodworking for your home – be it cottage or manor!
Here at Cabinets Of North Texas, we are a Design & Build company that is focused on providing Renovation Services of the highest standards. We are driven to complete each job with a level of craftsmanship that will reach nothing short of your expectations. We combine state of the art technology, a team of highly skilled contractors, and an exceptional Client Care process to get every job done on time and on budget.