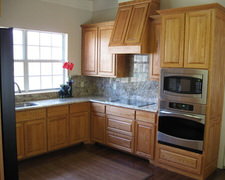 All In Cabinets Inc
510 Belair Drive
Jefferson City, MO 65109
Phone: (573) 893-1951
Custom cabinets for any size project. Custom finishes, wood types, door styles, mouldings and installation.
We handcraft custom colors, doorstyles, moldings, and accessories
We build custom Cabinets and Furniture. From rustic modern. Use quality wood and plywood no partical board.