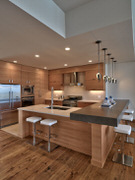 Lecxeco Inc, Serge Barrette – President & Board Member
1857 Rue Fortier
Jonquiere, QC G7X 4L4
Phone: (418) 547-2737
Kitchen cabinets and vanities.
Custom cabinetry manufactured right here in Jonquiere, Quebec.
Residential and Commerical Custom Cabinetry Marker
Lecxeco Inc is the leading kitchen & bath design studio located in Jonquiere, Quebec, specializing in luxury kitchen & bath designs.