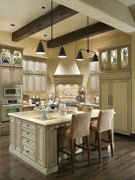 Tom's Cabinets Inc.
W751 County Road S
Kaukauna, WI 54130
Phone: (920) 766-9191
Stop by our showroom and discover for yourself how a do-it-yourself project can save you money.
Tom's Cabinets Inc. specializes in the installation of kitchen cabinet doors and refinishing (refacing) the outside of existing cabinets. We can also add new drawers, moldings and more. All this is done within 2-3 days and at a cost of 40% less of a new kitchen.