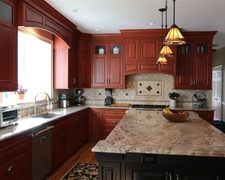 Menuiserie Gonthier Inc, Jean-Marie Gonthier – President & Board Member
Cuisines Gonthier, Les
462 Rue Piedmont
La Durantaye, QC G0R 1W0
Phone: (418) 884-2986
Woodworking on a custom and production scale.
Menuiserie Gonthier Inc is a kitchen and bath design and remodeling company.
Custom cabinet showroom displaying products that we custom build specifically to one's specifications and design.