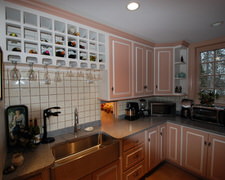 Portes & Moulures Alleghanys Inc, Guy Caron – President
65 Ch De La Station
La Pocatiere, QC G0R 1Z0
Phone: (418) 856-2642
We build Custom Kitchen Cabinets, Vanities, Wall Units, 20-20 Designs, NOW we have added one stop shopping with Home Renovations.
Portes & Moulures Alleghanys Inc offers unique and colourful kitchen cabinet designs to inspire you when you're ready to update or remodel your home. We can help you build casual, contemporary or traditional kitchens that you will love to spend time in with your family and friends.