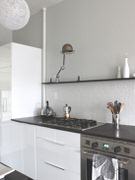 Floyd Miller
1861 East Mount Eden Road
Russell Springs, KY 42642
Phone: (270) 866-9556
Your Custom or Production Cabinetry: Designed, Built, Finished and Installed.
At Floyd Miller we are committed to design and create elegant custom cabinetries built to your design specifications. Our service experience, flexibility and impeccable taste of modern design set us apart and make your first stop.