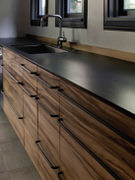 Koch & Co., Inc.
1809 North Street
Seneca, KS
Phone: (785) 336-6022
We are active in the residential and commercial sectors of the mill-work industry, providing new custom cabinetry, renovations, alterations, additions, retrofit projects & services to satisfy all.
Building contractor specializing in custom remodeling and home renovation. Custom cabinetry and design.Counter tops and mill work.
Koch & Co., Inc.'s products have been tested and comply with ANSI/KCMA A161.1
Koch & Co., Inc. meets certification requirements of the Environmental Stewardship Program