More Kitchen Images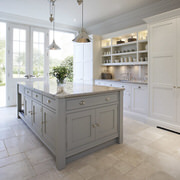 Timberline Millworks
13316 South Choctaw Drive
Baton Rouge, LA 70815
Phone: (225) 275-8403
Timberline Millworks will enhance the beauty and value of your home now and for years to come with a brand new custom kitchen. Made specifically for you!
Manufactures of custom cabinet doors and cabinet parts.
Laminated hardwood tops, woodworking bench, commercial and residential benching material and kitchen cabinets, store fixtures, display terminals, mall furnishings, institutional furniture, commercial millwork.