More Kitchen Images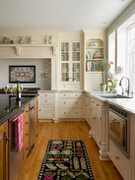 Reid's Custom Cabinets
215 New Jersey Avenue
Bergenfield, NJ 7621
Phone: (201) 385-2649
Fine woodworking and custom cabinets in Bergenfield, New Jersey.
Design and sales of cabinetry
Reid's Custom Cabinets is a contemporary furniture manufacturer for 15 years in Bergenfield, New Jersey. Our European style furnitures are design with the American way of life in mind. Quality, style and comfort are the words to describe our products. We manufacture bar stools, bedroom and home entertainment units.