More Kitchen Images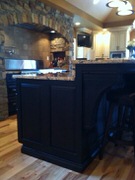 Mike Lucci
558 Center Grange Road
Monaca, PA 15061
Phone: (724) 375-7744
At our showroom we provide you a with variety of product choices and cater to any budget. For us no project is too small or too big.
We make custom cabinets and counter tops for home and office.
Mike Lucci takes good care of our customers and ensure out satisifaction is at a maximum.