More Kitchen Images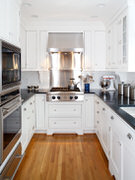 Cabinet Solutions Inc
4389 New Getwell Road
Memphis, TN 38118
Phone: (901) 888-1345
Kitchen and vanity cabinets, office fixtures and wallunits.
We specialize in manufacturing & installing custom cabinets & countertops for all commercial & residential applications.
Refacing your cabinets is an economical and eco-friendly alternative to replacement when it comes to your kitchen upgrade. If you're satisfied with the layout of your existing cabinets, we can work together to give your kitchen a stunning new look.