More Kitchen Images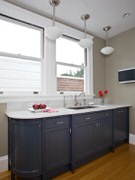 Kitchen Cabinet Refacers
1601 North Lee Trevino Drive
El Paso, TX 79936
Phone: (915) 594-8006
Kitchen Cabinet Refacers has cabinets for every room of your home in a variety of styles and for every budget.
Custom Cabinets in El Paso, Texas
Here at Kitchen Cabinet Refacers, our mission is to always provide quality service at an affordable price. The success of our company is due to the dedication we provide to our customers. No matter the job, customer satisfaction is always our number one priority! Don't hesitate to give us a call at (915) 594-8006!