More Kitchen Images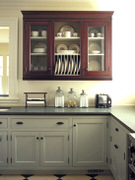 Brian Lee Cabinets
14660 Mitchell Creek Drive
Fort Bragg, CA 95437
Phone: (707) 964-0635
Stop by our showroom and discover for yourself how a do-it-yourself project can save you money.
Custom cabinetry in Fort Bragg, California
Renovating the kitchen? You are about to sell your home and want to restore a youthful glow to your counter tops? With Brian Lee Cabinets, we have the solution to the extent of your requirements and your budget. We offer an impressive variety of styles and colors that will appeal molded kitchen and bathroom counter tops, kitchen cabinet fabrication, and restroom cabinets and meet the needs of the most demanding.